Master of Library Science (MLibSc)
MLibSc or Master of Library Science is a postgraduate level degree course in library sciences. The programme is available to the candidates who have BLIS Degree. If you want to work as a professional librarian in a public or academic library, you generally will need to get a Master of Library Science (MLS) degree. Distance Learning courses are getting popular in India and lot of students want to earn their degree while working. You can take Master in Library Science through Distance Learning in India.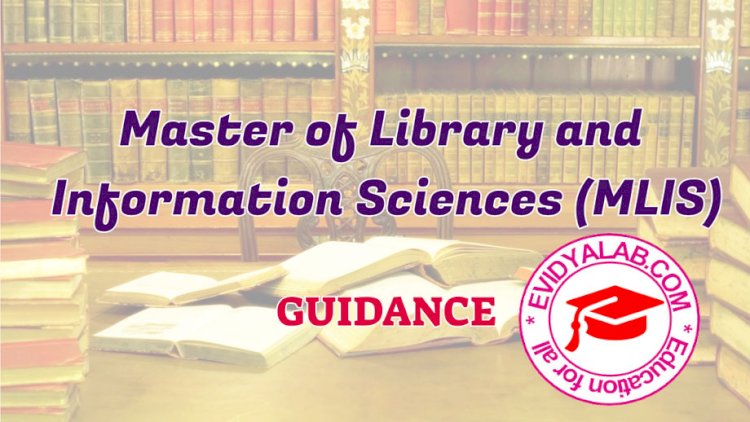 E-Vidya Lab: Career Advisor : Get Admission in various schools, collages and professional institute and Fulfill your dream. We advise and help student to get admission in top colleges,
Earning a master's in library science prepares students for diverse library positions and for employment in environments like public libraries, secondary schools, universities, healthcare offices, and legal offices.
Most employers require full-time librarians to hold at least a master's degree in the field. This degree prepares students to work in research libraries, provide assistance to patrons, utilize reference systems, and organize materials. Some specialty libraries, such as law and medical libraries, require librarians with specific skill sets. Earning a master's in library science provides the skills and experience students need to work in these and related environments.

The Online MLIS is delivered entirely online and is ideal for students interested in distance learning. Students are not required to come to campus at any point during their studies.

Curriculum
The curriculum and number of credits required to complete a master's program vary widely depending on your school and specialization. However, a typical MLIS program includes courses in:
Information organization
Library and information studies
Research methods
User center information services
Information technology
The core courses provide common and essential inputs covering the Library and Information Science. Building on these fundamentals, students undertake a dissertation in an area of interest. Course programme lays more emphasis on practical aspects of library and information science and is multidisciplinary drawing expertise from all the schools/centres of TISS and other related institutions/industries in India.
our career advisor will call you
Admission Open for 10th, 12th, BA, B.Com, B.Sc, MA, M.Com, M.Sc, BSW, MSW, B.Lib, M.Lib, D.El.Ed, B.Ed, M.Ed, BCA, MCA, BBA, MBA, Diploma, B.Tech, M.Tech, LLB, BALLB, LLM, D.Pharma, B.Pharma, B.Sc Nursing, M.Phil, PHD.
---