Diploma In Fire Safety Management
Diploma in Fire and Safety Management is a thorough study of risk, management, and measures that can be taken during any fire incidents. DFSM is a year-long diploma course divided into 2 semesters, course focuses on areas such as fire safety, industrial safety infrastructure management and planning.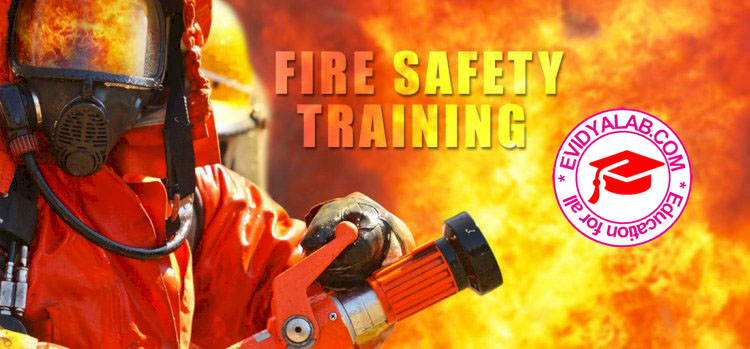 E-Vidya Lab: Career Advisor : Get Admission in various schools, collages and professional institute and Fulfill your dream. We advise and help student to get admission in top colleges,
For pursuing Diploma in Fire and Safety Management, Candidates need a qualifying certificate for the 12th-grade examination. Its eligibility guidelines are simple, as compared to other courses. You can go for this course irrespective of the background you had in your senior secondary, that is, science or arts or commerce.
There is no entrance examination for candidates, to get admission for this course, their merit is required foremost. Even scholarships are given to deserving students to move ahead in their choice of career.
The Diploma in Fire and Safety Management course focuses mainly on training the students in prevention of fire and safety methods so that they can deal with the situation in a better way and can help people in distress.
This course offers a proper study about how to evacuate people during emergencies and control the situation, thus this course trains the candidate in handling tiring situations like fire or failure in security measures.
Diploma in Fire and Safety Management: Job Profiles
Diploma in Fire and Safety Management's main objective is to make its students learn about how to face such real-life situations with strength and courage without panicking as well as safeguarding the lives of others. As the matter of safety is one of the primary and important aspects in the time of technology advancement and creation.
For any industry be it the private or government sectors one thing that is kept above everything is the security of people working in it, machines that are being used, and the products that are being created as any mishap can be caused due to negligence so prevent it and reduce the chances for such mishap usually teams are appointed of people who belong from this domain to take proper measures and keep everyone safe.
There are many job opportunities in Refineries, Industries, Electricity boards, Fire safety Training Institutes, Armed forces, Chemical plants, and others such as guiding them towards safety.
our career advisor will call you
Admission Open for 10th, 12th, BA, B.Com, B.Sc, MA, M.Com, M.Sc, BSW, MSW, B.Lib, M.Lib, D.El.Ed, B.Ed, M.Ed, BCA, MCA, BBA, MBA, Diploma, B.Tech, M.Tech, LLB, BALLB, LLM, D.Pharma, B.Pharma, B.Sc Nursing, M.Phil, PHD.
---