B.Sc Courses for PCB Students apart from MBBS
B.Sc. in Biomedical is a three years undergraduate course that a student can pursue after completion of Class XII. The course is designed to help understand the functioning of the human body, the mechanism of disease, and ways to treat diseases. It also involves the development of diagnostic tools and therapeutic strategies to cure disease.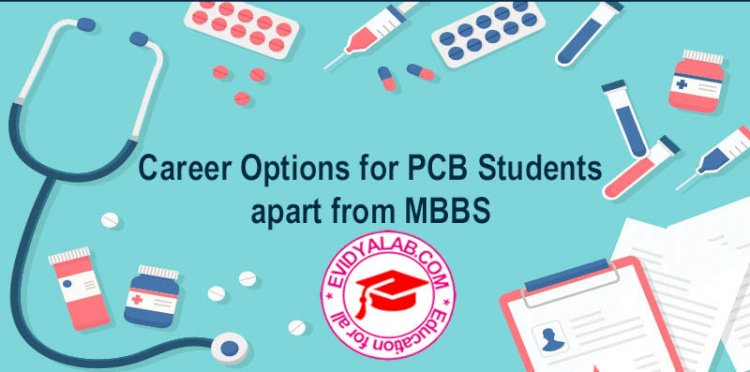 E-Vidya Lab: Career Advisor : Get Admission in various schools, collages and professional institute and Fulfill your dream. We advise and help student to get admission in top colleges,
students choose the PCB group intending to select medicine as their career. But, very few are aware of the solid and well-paid non-medical career options available at their doorstep. The following career options for PCB Biology students except medical after 12th standard.
BSc Distance Education Admission 2021-22:
BIO INFORMATICS
Bioinformatics is a combined pool of Biology, computer science, and Information technology. The professionals in this stream use information technology to analyze and interpret biomedical and pharmaceutical data.
SCOPE AND OPPORTUNITIES
Pharmaceutical companies, biotechnology companies, and healthcare organizations warmly welcome the bioinformatics analyst or developer after graduation. This stream also provides supplementary positions such as Clinical Research Associate, Bio Analyst, and a medical coder.
Microbiology
It is the study of microscopic organisms such as bacteria, fungi, viruses etc. and their interactions with humans, animals, plants and other organisms in the environment. Microbiologists research and investigate how different microorganisms affect our lives. It consists of various subfields such as virology, bacteriology, parasitology, mycology etc.
Career Opportunities:

Typical employment opportunities include clinical researcher, research scientist, lab technician, quality control, working in pharmaceuticals, health sector, food industries, breweries, distilleries, agriculture, etc.
Biochemistry
It is a branch of science that involves the study of chemical processes and substances which occur within living organisms. It is a laboratory-based science that brings together biology and chemistry, as biochemists solve biological problems through concepts of chemistry. Examples of work include improving the process of photosynthesis to improve crop yield, discovery and development of new chemical process to produce biofuel, etc.
Career Opportunities: Since it is a growing field, you can find numerous exciting opportunities such as biomedical scientist, forensic scientist, clinical laboratory technologist, toxicologist, research scientist, healthcare scientist, pharmaceutical sales representative, consultant, patient care coordinator, lab technician, medical coder, teacher/professor, etc.
Genetics
This interesting field involves the study of genes and their functions, genetic variations and heredity of living organisms. Professionals in this field study genetic diseases, anomalies, traits, mutations, how genes are transmitted, interactions of genes with their environment, etc. Geneticists can apply their knowledge to as diverse areas as treating patients with genetic anomalies, to developing pharmaceutical products.
Career Opportunities: Jobs related to genetics include becoming a geneticist, immunologist, cytogeneticist, forensic DNA analyst, medical technologist, geneticist, pharmacologist, clinical research associate, research scientist, etc.
Biophysics
This field combines the principles of Physics with those of Biology. Biophysicists study organisms at the cellular and molecular level using the methods and approaches of Physics. It is an advancing field, involving state-of-the-art technology, physical measurements and computational models.
Career Opportunities:

Jobs in this field include becoming a nuclear medical biophysicist, clinical biophysicist, forensic biophysicist, nutritional biophysicist, professor, etc. A prime career avenue is research, and you can find work as a research scientist in various government and private organisations.
Biomedical Science
It is an applied science that combines different aspects of different disciplines to develop interventions, technology and knowledge in the domain of health care. Biomedical scientists work to study how cells, organs, and processes function in the human body, and thus, their work is applied to the understanding and treatment of diseases.
Career Opportunities:

The knowledge and skills gained in this career allow you to work as a biomedical scientist, clinical researcher, forensic scientist, toxicologist, immunologist, and other healthcare professions. It is a relatively new, yet fast-expanding field in India.
Allied Medicine
If you are really keen on pursuing a Medical career, yet don't wish to go down the challenging road of an M.B.B.S, then the Allied Medicine domain could be the one for you. This is again a wide domain that consists of different healthcare careers that are distinct from doctors, yet assist doctors in their work.
These include a wide range of careers such as Physiotherapy, Audiology, Occupational Therapy, Medical Lab Technology, Clinical Research, Radiology, etc. The career paths, colleges and opportunities for each of these careers are very vast.
Biotechnology
It is a field that combines biology and technology. It utilises living organisms such as cells and bacteria in the industrial process. Biotechnology professionals work on different areas to improve our life, including developing cleaner and safer fuels, improving crop yields, improving the production of food items, developing drugs to deal with deadly diseases, etc.
Physiology
It is the study of bodily functions, activities and mechanisms of living organisms, especially humans. Physiologists generally study a wide variety of topics including organs, anatomy, cells, biological compounds, and muscles, and how they interact and work together to keep the body functioning. In addition to studying human physiology, there are other branches of the field, including plant physiology, cellular physiology, microbial physiology, etc.
Botany
It is a well-established branch of biology that involves the study of plants, their structure, processes, growths, etc. Those in the field of Botany conduct research and observation to discover new species, study the interactions of plants with different organisms in their environment, genetic formation of plants, etc.
Zoology
This exciting field involves the study of the animal kingdom. Zoologists analyse the structure, life processes, genetics, physiology, classification and interactions of various species in detail by observing animals in their natural habitats as well as laboratories.
our career advisor will call you
Admission Open for 10th, 12th, BA, B.Com, B.Sc, MA, M.Com, M.Sc, BSW, MSW, B.Lib, M.Lib, D.El.Ed, B.Ed, M.Ed, BCA, MCA, BBA, MBA, Diploma, B.Tech, M.Tech, LLB, BALLB, LLM, D.Pharma, B.Pharma, B.Sc Nursing, M.Phil, PHD.
---