B.Com Distance Education 2022
A Bachelor of Commerce, abbreviated as B.Com is an undergraduate degree in commerce and related subjects. The course is designed to provide students with a wide range of managerial skills and understanding in streams like finance, accounting, taxation and management.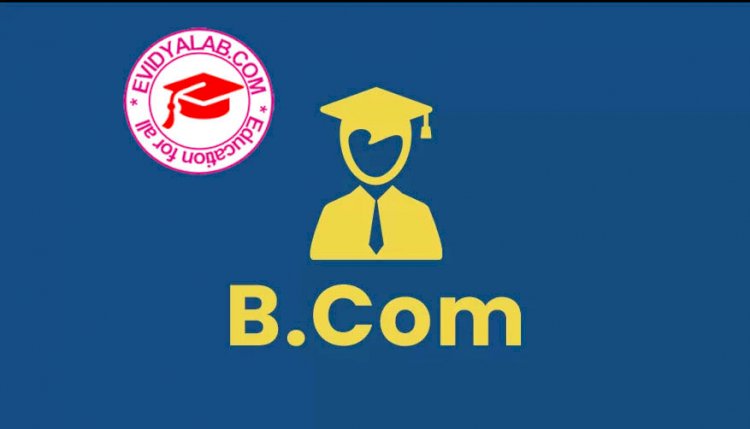 E-Vidya Lab: Career Advisor : Get Admission in various schools, collages and professional institute and Fulfill your dream. We advise and help student to get admission in top colleges,
BCom which is an acronym for Bachelors in Commerce, is a degree that many students pursue every year after the completion of 12th or equivalent exam. Although the BCom course are pursued by students who had commerce in their higher secondary level, science and arts student can also pursue this course. In BCom subjects like Economics, Accountancy, Law, Statistics, Finance, English, etc are taught.
The Bachelor of Commerce Distance Education degree is modified to produce a student with an extensive range of managerial skills. At a similar time, it builds competency during an explicit part of business studies. Most universities thus, arrange the degree specified additionally to their major. Students are exposed to general business principles, taking courses in business management, economics, statistics, finance, marketing, human resources, accounting info systems.
Top BCom Specializations
BCom Accounts and Finance
Students are recommended specialization in Accounts and Finance if they have a good understanding of mathematics and economics.

Topics which are taught during this course are Wealth Management, Business Communication, Business Law, Cost Accounting, International Finance among other topics.
BCom in Economics
Economics is a complicated study aimed toward determining the monetary feasibility of certain projects, applications, etc. Candidates are taught to research and provide solutions to economic problems publicly also as private sectors.
Using skills in mathematics, statistics and operational research, professionals are required to produce fact and practical based solutions.
The curriculum focuses on building business insight in eligible students including some specialties like accountancy and organizational behavior from among which students can choose.
BCom in Investment Management
B.Com. in Investment Management is a degree created for individuals who show interest in building their career in the financial sector of India. It includes basic and technical concepts and relevant theories of fast paced capital markets along with a special reference to stock markets.
Studies in Business Economics, Quantitative Techniques, Wealth Management, Investment Banking, Financial Intermediaries, Information Technology in Investment and Investment Laws helps students in getting practical knowledge which ultimately makes students job-ready post completion of B.Com. Investment Management program.
B.Com in Banking and Insurance
This course has been designed to train students into professionals who can manage various financial activities connected to banking and insurance, work flawlessly in the Banking and Insurance surroundings in the financial services, be informed of various technologies needed in the field of Banking and Insurance.
BCom in Taxation
B.Com. in Taxation is an undergraduate course whose duration is 3 years.
It covers the study of standards of bookkeeping, monetary arranging and monetary hypothesis with a specific focus on tax assessment which is a process of imposing a tax on the subjects who earn 'taxable' income.
B.Com in Finance
B.Com specialization in Finance is one of the many undergraduate courses available to the candidates of commerce stream.
The duration of the programme is for a period of 3 years.
The average course fees for B.Com specialization in Finance ranges between INR 10,000 to INR 6 Lacs Depending on the college.
Candidates studying

B.Com Finance

develop a strong understanding of Financial Accounting, Business Environment, business taxation, income tax laws and practices and many more.
BCom in Human Resources Management
B.Com in Human Resource Management is a three-year UG course.
It helps candidates to understand their surrounding and processes of recruitment and selection, implement concepts and techniques to promote change, manage and develop people, and apply the right amount of occupational health and safety practices in the respective organisations they work for.
BCom in Financial Market
B.Com. in Financial Market is a 3-year UG course .They are defined as having clear pricing, basic regulations on trading, costs and fees, and market forces determining the prices of securities in trade.
A Financial Market relates to a process, which enables people to trade their wealth in mediums such as bonds, stocks, and commodities in the market.
BCom in Computer Applications
BCom in Computer Applications is a 3-year UG course which is studied to have a clear understanding in the field of commerce and a part of it that involves the use of software technology application.
In this course the candidates are taught the fundamentals of Commerce like accountancy, macroeconomics including the basics of computer language, computer applications in business, etc.
our career advisor will call you
Admission Open for 10th, 12th, BA, B.Com, B.Sc, MA, M.Com, M.Sc, BSW, MSW, B.Lib, M.Lib, D.El.Ed, B.Ed, M.Ed, BCA, MCA, BBA, MBA, Diploma, B.Tech, M.Tech, LLB, BALLB, LLM, D.Pharma, B.Pharma, B.Sc Nursing, M.Phil, PHD.
---