Bachelor of Library Science (B.Lib)
Bachelor of Library Science or BLIS or BLibISc or BLISc is a one-year degree which is awarded to the students who excel in the Library Science. Library Science is an act of managing, maintaining & preserving information using sources of information technology & education. The minimum eligibility criteria required for the course is graduation.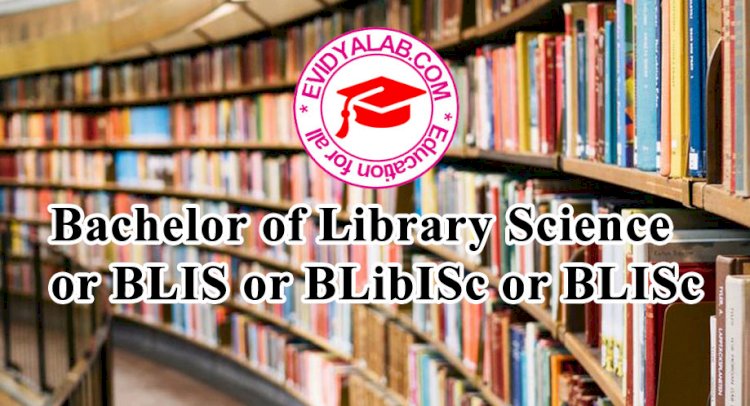 E-Vidya Lab: Career Advisor : Get Admission in various schools, collages and professional institute and Fulfill your dream. We advise and help student to get admission in top colleges,
BLibISc (Bachelor of Library & Information Science) is a one-year duration undergraduate course in Library Science. In BLibISc course, students are taught various aspects of library science including management, maintenance and preservation of information using sources of education as well as information technology.
BLibISc admission process varies from institution to institution. Some institutions provide direct admission to candidates on the basis of their marks scored in graduation. On other hand, some universities/ colleges conduct entrance exams to offer admission to candidates in BLibISc course. The course is available as both a full-time and part-time programme at universities.
B.Lib.I.Sc Eligibility Criteria
All candidates who possess a bachelor's degree from a recognised university with minimum 50% - 60% aggregate marks fulfill eligibility criteria for BLibISc course.
BLibISc: Job Profiles
There are various career opportunities for candidates who complete BLibISc course successfully. Candidates can either find employment or can opt for MLibISc to obtain a master's degree.
Candidates who wish to pursue a job after completion of the course can find employment opportunities at news agencies, public/ private libraries, photo/ film libraries, universities and other academic institutions, foreign embassies, museums, libraries of radio stations, etc. Some of the popular job profiles for BLibISc candidates include:
Library Information Officer: A library information officer manages information to make it easily accessible to others. The professional typically works with electronic information such as online databases content management systems, digital resources and traditional library materials.
Library Assistant: A library assistant is a person who lends as well as collects books/ periodicals/ videotapes, updates patrons' records on computer, and processes new materials such as books, software, audiovisual material, etc.
Assistant Director: An assistant director assigns tasks to staff at the circulation desk, trains new staff in library, provides reader's advisory service for patrons, etc.
Librarian: Some of the daily responsibilities of a librarian include organizing library materials so that the books, periodicals etc are easily accessible; assembling and indexing databases of library materials; etc.
Library Specialist: A library media specialist is a professional who usually works in schools to help students and staff find materials and learn to conduct research. However, such candidates typically need to have a master's degree in library science to work as a library specialist.
Cataloguer: A cataloguer is responsible for managing the catalog of materials at a library.
Lecturer: Candidates interested in academics can also become a lecturer in a college or a university.
Indexer: An indexer reviews various documents and compiles indexes to make information searches easier. An indexer works with a variety of documents such as books, periodicals, manuscripts, literature, reports, websites, DVDs, audio recordings, etc.
our career advisor will call you
Admission Open for 10th, 12th, BA, B.Com, B.Sc, MA, M.Com, M.Sc, BSW, MSW, B.Lib, M.Lib, D.El.Ed, B.Ed, M.Ed, BCA, MCA, BBA, MBA, Diploma, B.Tech, M.Tech, LLB, BALLB, LLM, D.Pharma, B.Pharma, B.Sc Nursing, M.Phil, PHD.
---