B.Sc - Physics Chemistry and Math (PCM)
B.Sc in PCM is a bachelor's degree in science specialized in Physics, Chemistry, and Maths. BSc in PCM is the very best option for students who desire to acquire knowledge of science and technology. A Bachelor's degree in science specialized in PCM can be done through regular classes and distance learning.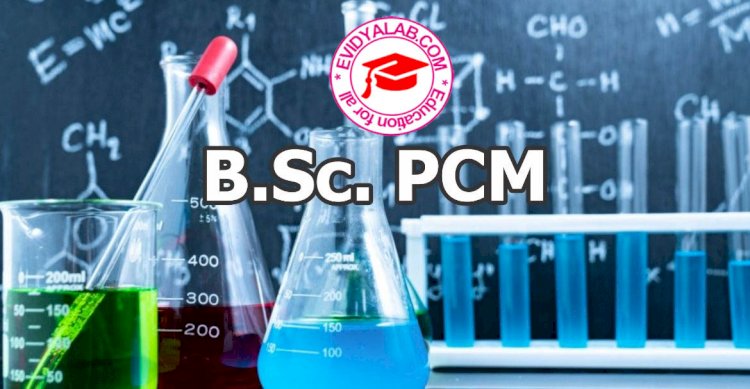 E-Vidya Lab: Career Advisor : Get Admission in various schools, collages and professional institute and Fulfill your dream. We advise and help student to get admission in top colleges,
Distance learning in BSc is uniquely created according to the current scenario of education. Students opting for this course can do other activities that will help them to enhance their careers. There is no need to attend regular classes for this course.
BSc gives knowledge of the practical and systematical basis of the universe. In this course, students will get a vast understanding of the chemical, the function of chemical industries, and how to upgrade the quality of human lives.
BSc Distance Education Admission 2021-22:
This course will give awareness of the great work of scientists in the Physics, Chemistry, and Mathematics fields. The course aims to prepare the students for higher studies and jobs like scientists, mathematicians, architectures, etc without pursuing engineering.
The eligibility criteria for taking admission in distance learning BSc in PCM is different in different universities. Some universities mentioned in their terms and conditions that the student must have the Physics, chemistry, and mathematics subjects during the 12th standard and must attain 45% marks in PCM as a whole.
The BSc course in PCM from regular classes and distance learning is the same. The syllabus, semester vise subjects all the things are the same. The value of the degree is also the same.
​Is BSC(PCM) Distance Education UGC approved?
For answering this question first we should know that 'What is UGC?'. UGC is Under Grant's commission which regulates the policies for the universities. UGC makes the guidelines that every university has to follow and if they do not follow these guidelines they will get penalized for that.
BSc PCM by distance learning is completely approved by the UGC and it is also valuable. To get admission in the distance learning BSc in PCM course you need to check first that the university is approved by UGC or not and always take admission to the UGC approved universities.
What are the benefits of BSC(PCM) through Distance Education?
There are many benefits of getting a bachelor's degree in science specialized in PCM through distance learning. Some of them are mentioned here:-
1. On-field Experience- Some of the universities want some years of experience before taking admission for a master's degree. Through distance learning, you can get that experience side by side with your studies. This will save your 2-3 years for pursuing a master's degree.
2. Cost-effective- Distance learning course is a cost-effective course as the fees of the regular basis course is higher than the distance learning course. In a limited budget, the students can secure their bachelor's degree.
3. Time-saving- The BSc in PCM will save your time as you do not need to attend classes on a regular basis. You can do other activities that will enhance your career. You can even join a job together with your studies.
4. Dual Courses- As per the new guidelines now the student can get two degrees together. If you want to secure another degree with the distance BSc PCM according to your interest at the same time, you have the option to get that degree together.
5. Exam Preparation- If you are looking to prepare for an exam whether it is for a government job or any entrance exam for higher studies you can prepare for that exam along with your studies. If that exam is a priority in the point of your career you can focus on the preparation of the exam and attain the degree of bachelorette of science in PCM.
our career advisor will call you
Admission Open for 10th, 12th, BA, B.Com, B.Sc, MA, M.Com, M.Sc, BSW, MSW, B.Lib, M.Lib, D.El.Ed, B.Ed, M.Ed, BCA, MCA, BBA, MBA, Diploma, B.Tech, M.Tech, LLB, BALLB, LLM, D.Pharma, B.Pharma, B.Sc Nursing, M.Phil, PHD.
---